Sharing and Isolating Steps and State in Cucumber JVM and Groovy
I've been doing a bunch of BDD acceptance tests and automation lately, having some wins and losses and learning new stuff as I go. Whilst enjoying working with Cucumber, I had a bit of challenge with sharing and issolation.
I'm not sure I like the solution I arrived at, I need to use it in anger more to see that for myself. It's a bit complex and I still don't like the global-ness of the world stuff, could be evolved somewhat. I hope it at least gives some ideas to others or helps someone come up with something more elegant!
The problem …
I was writing a bunch of scenarios for Features and wanted to re-use Steps and related code across various Features.
I was hoping to make it quicker to compose new Scenarios, quicker to modify and maintain by drying up my code a bit. Cucumber and Groovy can be a bit challenging, the way step files are compiled and the scope of variables between them seemed to cause me the challenges.
I also desired to encapsulate some state and operations so they are not shared, to avoid wierd global state side-effects impacting Scenarios.
My general desire was:
A JUnit runnable which ran my Features based on a Annotation (e.g. @AcceptanceTest).
Many features, multiple Feature files (one per Feature), multiple Scenarios within the Feature.
A dedicated Step file for a Feature, which also contains state for the Features Scenarios.
A shared Step file and class for the bits I wanted to re-use across Features.
Independence of tests, state not carried over between scenarios.
Not too complex/abstract to understand (not sure I got there). Clear hierarchy, not spaghetti.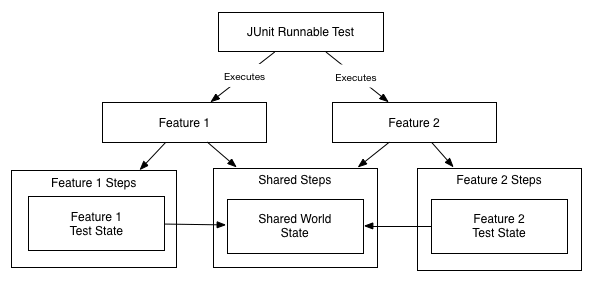 Some of the pains I seemed to encounter:
You can't see variables defined in one step file in another step file
You can't see variables in global scope (or world scope) within any classes within step files
Can't have steps with the same "phrase" in multiple feature files, they clash at runtime
Even using glue to try and separate steps with separate JUnit runnable tests, it seems Cucumber will still by convention find your other steps and they clash
Mix-ins seem useful, but seem to get themselves in a pickle when running in cucumber, things getting defined in scope you wouldn't expect and lazy re-initialising when you don't expect
World can only be defined once, you can't redefine it or add to it easily
I even got in a weird state where the one Step file was being compiled (I think) twice, saying Steps were duplicates of themselves... that was fun.
Where I'm at so far …
I used a combination of World() and Feature specific "State" classes in Step files.
I defined the World once, but I use @Before hooks to refresh the World properties in place.
Note, I also pass the world reference in (delegate) when I create the step state, so I can use properties from the world internally or delegate to it. This was kind of the discovery for me that led to the pattern I have now for better or worse.
Here's an example shared steps file:
And here is an example feature steps:
And a feature:
UPDATE
Someone also mentioned to me the use of the Groovy @Field annotation on your global fields, so you could see them in other step files.
Probably something to use at your discretion w.r.t global state.
I need to play with it some more, could be a much simpler solution than what I have above for sharing!
In shared script:
@Field SomeObject myObject
In other Groovy scripts:
myObject.doSomething()